This is the Plano Housing Market June 2023 report which reveals the median sales has agin increased from previous month up to $535,000. For the past seven day snapshot, as of June 22, 2023, shows that new listings outpacing closed sales. This will help increase supply and hopefully prevent another sharp increase in sales price. Once again, the median DOM (Days on Market) remains low at 7. This indicates properties continue to move at a fast pace.
Please note that the parameters set up for this data were for single family homes and resale. New home construction was not included. For current complete market details, visit our Plano Texas Housing Market page which has up to date interactive charts on the Plano housing market. Data is gathered from the NTREIS, North Texas Real Estate Information Systems, same database licensed agents use for their analysis. The below information was taken from the MLS for this time period for your reference.
Plano Texas Real Estate Update
7 day Snapshot as of June 22, 2023 from the MLS
63 - New Listings
07 - Back on Market
42 - Price Decrease
03 - Price Increase
03 - Active KO
35 - Active Option Contract
07 - Active Contingent
38 - Pending
41- Closed Sales
02- Expired
07- Cancelled
00 - Withdrawn
02 - Hold
08- Coming Soon
The information above is for information purposes only. Market data constantly changes on a daily basis. Contact us for current information, questions, comments or concerns.
Plano Housing Market Trends
The charts below are provided to give a visual of trends to provide visual support for the Plano Housing Market June 2023 report. The Plano housing market for Median Sales Price continues its uptrend. Plano does however have its dips as well. The below is data as of June 24, 2023 and is static data for the close of May 2023 statistics. The video above was taken on June 22, 2023. For the most current trend charts Click Here, that page has interactive data, meaning it is constantly being updated.
Median Sales Price For Plano
The median sales price is probably the single largest factor contributing to the Plano Housing market. With another rise in median sales price, the Plano Housing market continues trending up.
$535,000
-7.8% yoy
High $580k May 2022
Rising since Nov 2022
Median Price Per Sq Ft
The price per sq ft comes from dividing the closed sales price by the square footage of the home. Took a slight dip this month.
$219
- 6.8% yoy
High of $235 May 2022
Remains above $200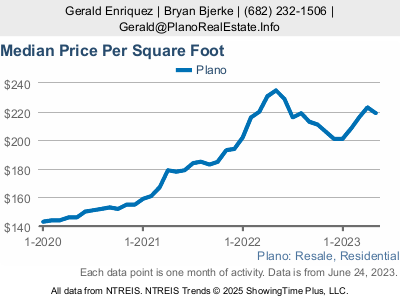 Median Days on Market
The median days on market is an indicator on the speed of the market. The lower the days, the faster the market moves. Half the houses sold above and the other half sold below the 7 days on market.
7 DOM
+ 40% yoy
High of 33 in Dec '22
Market Gaining Speed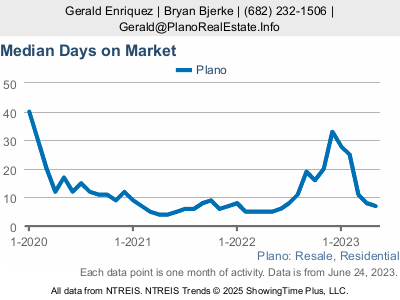 Months Supply
The Plano supply is low at the moment, just above 1 month. There is more new listings than closed properties according to recent data on MLS.
1.3 - slight increase
+ 30% yoy
Recent high of 1.9 months
Remains Low
Plano Homes For Sale
This is the active homes for sale in the Plano Housing Market. This metric is typically very cyclic, meaning it normally falls in the winter/holidays and rises in spring summer.
232 Plano Homes for Sale
+ 1.3% yoy
High of 432 July 2022
Typical this time of year
New Plano Listings
The new listings metric is also very cyclic. Currently the new listings appear to be less than recent history for this month. Should rise by next month.
265 New Plano Listings
- 20.9% yoy
High of 409 in June '22
Much needed new inventory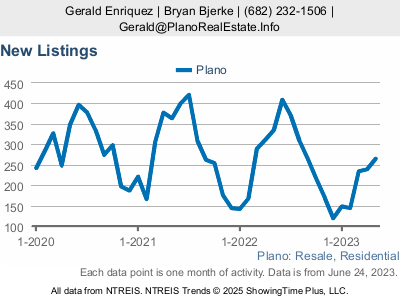 Closed Sales in Plano
Plano closed 159 real estate transactions for the month of February 2023. Closings seem to be back on the rise.
196 Closed Sales
- 20.6% yoy
High of 260 in June '22
Rising since Nov 2022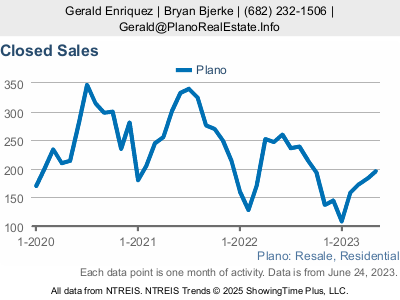 Plano Texas Resources: